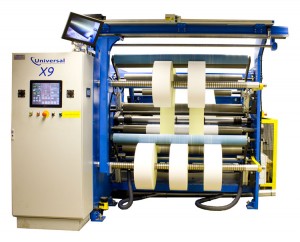 Roll width options
1000mm (40")
1300mm (52")
1600mm (63")
1800mm (71")
2000mm (80")
Master roll diameter options
1000mm (40")
1300mm (52")
Rewind diameter options
610mm (25")
800mm (30")
1000mm (40")
Minimum slit roll width
> 10mm
> 0.39"
Slitting options
Razor
Shear
Crush
Maximum speed options
300 m/min (1000 ft/min)
450 m/min (1500 ft/min)
600 m/min (2000 ft/min)
Materials
Papers
Label stock
Laminates
Foils
Films
Compound materials
Reduce setup times
Increase accuracy
Efficient job changes
Simplify complex setups
Maximise productivity
The Universal X9 SR slitter rewinder is a variant of the X9 slitting machine specifically designed for short run customers with frequent job changes or those with complex set ups. Analysis has shown that unless run lengths are very long, the majority of downtime on slitting rewinders results from the time taken to set up the next job. This time can be considerable if shear slitting is used due to the need to set both male and female knives.
The Universal X9 SR slitting machine integrates a number of automation options to minimise set up times and maximise running time. All the machine operator has to do is enter the required slit widths and roll diameter/length and the machine control system does the rest:
The parent roll is picked up by the shaft-less unwind and positioned correctly
The web  guider sensor is automatically moved to the required position
The slitting knives are automatically positioned – razor, shear or crush – with a 20 knife set up in under two minutes.
The correct core positions are automatically shown using the laser core alignment system.
The required material tension setting have been recalled from the job recipe system
By the time the new parent roll has been moved into the unwind, all other aspects of the slitting machine have been set up. All of these settings can be saved in the machine recipe system and recalled next time the same product is slit. Universal's Total Tension Control System guarantees the tension profiles of the finished rolls. The actual tension profiles of the rolls and other machine parameters can be saved and retained as part of the quality record. This information can be downloaded from the machine if required.
A range of roll off-loading and core loading options are available.
The Universal X 9SR slitter rewinder also integrates with the Universal CCS and CCA core cutters. Each time a new slit pattern is entered, the information is sent to the core cutter and a new set of cores is automatically produced.
The integration of these technologies not only dramatically reduces the set up time but also prevents costly errors.
If you are unsure of the benefits contact us for more details or read the comments from one of our customers:
"When the decision to invest in a new slitter rewinder was taken, our principle considerations were short run productivity and the capability to process label stock and some open adhesive substrates – The Universal X9 with its auto-knife setting, laser core-alignment, auto-roll offloading and automatic tension control (along with the Universal's experience in handling label stock) made Universal's X9 a clear contender in our procurement process.  The more aspects of the converting process that we can automate, the better service and quality we can offer our customers."
Rachel Barton of MACtac U.K.