The CCA automatic core cutter is part of a range of converting equipment produced by Universal Converting Equipment. The CCA machine is designed to be a cost-effective unit requiring minimum operator intervention. The touch screen interface allows the operator to programme their required core lengths. The touch screen interface allows cores of different lengths to be programmed in each cut sequence to optimise the usage of the parent cores.
The operator introduces the parent core to the machine and it is gripped by a pneumatically actuated mechanical gripper. The core is drawn into the machine and the length of the core is measured automatically before the cutting sequence begins. The servo positioning system advances the core under the knife. If selected an initial trim is taken to clean up the edge of the core, then the required core lengths are produced.
All operations are PLC controlled to ensure precise and clean cuts. The option for variable core lengths is built into the CCA machine as standard. Up to 7 different lengths can be programmed to be cut.
The CCA cutting system employs a pneumatically loaded knife. A high powered pneumatic cylinder ensures that the knife will cut through the hardest of core materials, once the core is cut the blade automatically retracts. This increases the life of the cutting blade and the inner mandrel. The cut pressure is set on the touch screen and does rely on the operator changing a manual regulator.
Core sizes:
The machine can be supplied with a variety of core gripping chucks to suit several ID cores, the speed of rotation is automatically set to keep the optimum surface speed to obtain a clean cut.
Productivity
High quality
Dependable



High speed for large volume core production


Programmable cut pressure


Clean edge cut (without burr)


Minimal dust generation


60 seconds core size change





Automatic core length measurement


Automatic speed setting to suit core outside diameter


Automatic cut depth measurement


Automatic or programmable core trim function


Automatic core support height setting


Automatic rotation of blade to extend blade life (optional)


Automatic core loader (optional)


Selector switch for mm and inch





7" high resolution colour touch screen with diagnostics


Core-miser feature to minimise core wastage within current program


Single or multiple cut lengths within same program (up to 7 different widths)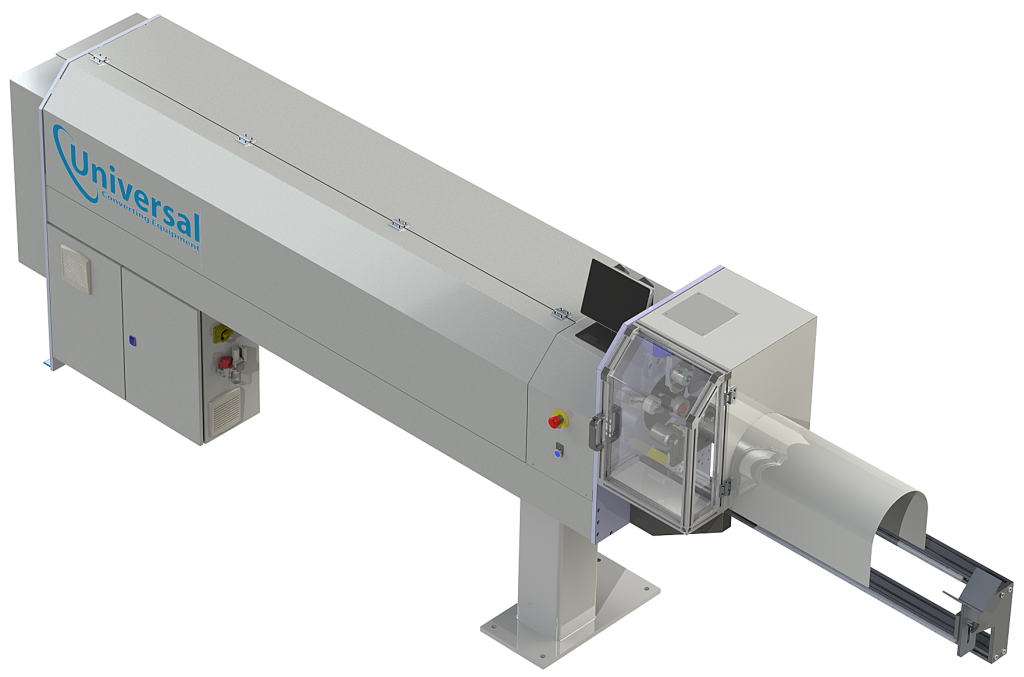 CCA Automatic Core Cutter features:
Extremely simple and intuitive operation
Automatic core length measurement
Automatic speed setting to suit core outside diameter
Automatic cut depth measurement
Automatic or programmable core trim function
Automatic core support height setting
Automatic rotation of blade to extend blade life (optional)
Automatic core loader (optional)
Programmable cut pressure
Clean edge cut (without burr)
Minimal dust generation
60 seconds core size change
High speed for large volume core production
Core-miser feature to minimise core wastage within current program
Single or multiple cut lengths within same program (up to 7 different widths)
9" high resolution colour touch screen with diagnostics
Selector switch for mm and inch
CCA Automatic Core Cutter Technical Information
Cutting mandrels available for core ID:
70mm
76mm
100mm
152mm
2 3/4 inches
3 inches
4 inches
6 inches
Maximum core length options:
2200mm
3500mm
86 inches
137 inches
Maximum cutting speed:
Dependant on core material and cut width
60 cores
per minute
Maximum core wall thickness:
This may reduce when cutting plastic (HDPE or PP) cores
20mm
0.8 inches
Cut length accuracy:
+/- 0.1mm
Minimum cut length:
Dependant on core material (typically equal to core wall thickness)
>4mm
1/6 inch