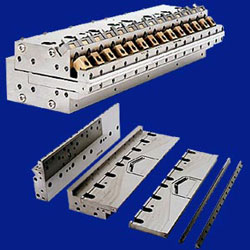 We supply width width slot sides such as Extrusion Dies Industries LLC (EDI), these are wide width slot dies using coat hanger distribution of the hot melt adhesive to ensure even application of the adhesive across the full width. These dies are available in widths up to 4500mm. The dies normally have a flexible die lip which can either be manually or automatically adjusted to give fine control of the adhesive distribution.
The latest dies also incorporate a driven roller in the top lip to produce streak free hot melt coatings at low coat. ITW Dynatec have a strategic partnership with EDI ensuring an integrated approach to the supply of wide web systems.
Universal Converting Equipment incorporate EDI dies into their range of wide web hot melt coating and laminating machines.
Web widths available from 61cm to 457cm
Coat weights from 12 gsm to 2000 gsm with accuracies down to 1%
Compatible with a wide variety of adhesives including: PSA, APAO, EVA, PUR, and Polyamides
Continuous or intermittent application speeds up to 610 MPM
Viscosity range from 100cps to 120,000cps
Temperature range from ambient to 260ºC