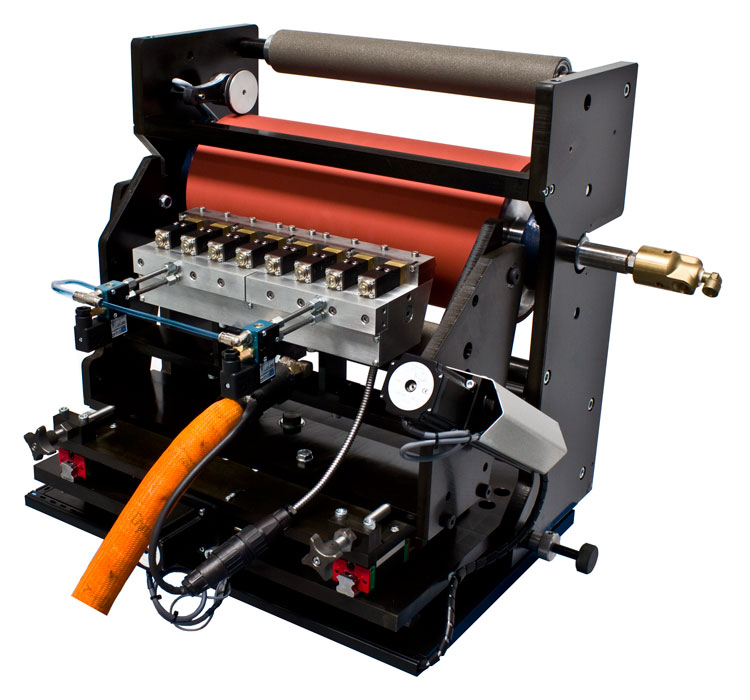 The Universal HMCS (Hot Melt Coating Station) allows printers to coat hot melt adhesive in-line on their print presses, enabling them to service customers requiring adhesive coating without incurring the costs associated with installation of a dedicated line. The coating systems are designed to give the same precision of coating normally only achieved on dedicated hot melt coating lines.
Glue can be applied either as a continuous coating, as striped coating or patch coating in registration with the print design. A complete range of hot melt adhesives can be applied including pressure sensitive, heat seal, dry peel and UV curing. Applying adhesive on a press or finishing line allows special products to be manufactured which cannot be produced on standard label stock. End uses have included liner-less labels, security labels, promotional labels and fold out labels.
The secret to high quality coating is precision positioning of the coating die. Safety regulations restrict access to the coating system when the machine is running. As a result, we have designed a motorised adjusting system so the key settings can be adjusted via the touch screen display. These positions form part of the product recipe and can be recalled at a later date when the product is run again. In essence, we've taken the 'black art' out of in-line coating while making the process both accurate and flexible.
The Universal HMCS coating system is available in a number of standard widths. It can also be customised to suit special applications.
Compatible with a range of printing presses including Mark Andy, Nilpeter, Kopack, Gallus, Edale and more.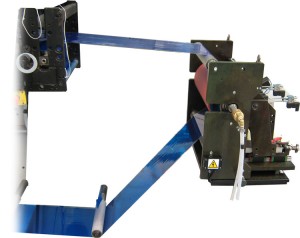 HMCS 420 installed on a printing press.
Coating width
330mm (12")
420mm (16")
620mm (24")
Coating types
Direct, Proximity, Cross-web patching
Weight
230kg
Control for coating gap and angle
Precision motorised control
User interface
Touchscreen