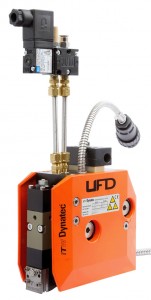 Hot melt applicators
Fiberisation
Special purpose machines
Full spares and training support
Try before you buy
Universal, and previously, Mercer, has been supplying the non-wovens industry for 25 years with its coater laminators. All our equipment is purpose designed – often using common, proven, componentry to maximise reliability and minimise customers' spares stock. New developments by ITW Dynatec – and we are its exclusive distributor in the UK – in individual strand coating has taken hot melt fiberisation technology to new heights (see photos).
This is enabling us to design, manufacture and supply coater laminators that will out perform any others on the market:
Fiberisation – for non-wovens
Adhesive thickness From 1 to 50 gsm.
Machine speeds Up to 450 m/minute.
Web widths Up to 4 m.
Substrates Textiles, non-wovens.