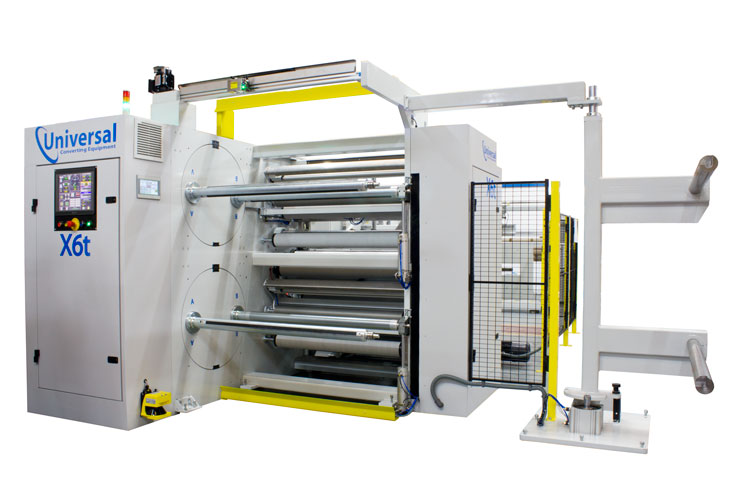 High productivity dual turret slitter.
The X6t Dual Turret Slitter Rewinder is suitable for film producers and flexible material converters. The X6t is capable of processing a wide range of films, foils, papers and laminates.
Turret slitters increase productivity by reducing the downtime deficit slitter rewinders encounter when unloading a completed slitting job and preparing for the next slitting job.  A turret slitter enables the machine operator to unload a completed set of rolls while the next set is  running.
The Universal X6t slitter is a variant of the popular Universal X6 Flexible Materials slitter rewinder that has been designed to capitalise on the efficiency and accuracy features that make the X6 range an easy purchase, not just for converter of flexible packaging materials, but also for companies slitting foils, papers and a wide range of other materials.  The turret capability of the X6t perfectly compliments the other automation options – including laser core alignment, automatic shear and razor knife positioning, automatic core positioning, end of roll cut off and off-loading pushers with roll handling- to produce levels of efficiency and operator simplicity surpassing many competitive machines.

Productivity
High quality
Dependable



High speed - 600 -1000 m/min


Simple to set up and operate


Short web path


Fast changeover maximising machine uptime - typically less than two minutes to position knives, align cores, set tension and load parent roll


Automatic knife set up - up to 20 knives set in less than 2 minutes (set while new parent roll is being loaded)


Digital web guiding


Comprehensive on screen diagnostics


Automatic cut off, tape to core and roll tape down options minimising stop time between sets of rolls








Closed loop, load cell control of rewind tension


Recipe system to ensure repeatability.


Constant geometry, linear motion, contact roller system with automatic pressure control


Large diameter path rollers with specialised finish to suit application


Short distance from knives to rewinds


Short distance between rollers


Ethernet based OPC server allowing access to machine parameters by SCADA or other management systems





Robust design with heavy duty frames


Only high quality components from global suppliers


Unique dynamic circuit diagrams with auto fault-find system


Large 22 inch touch screen control interface


Internet based real-time remote diagnostics


No Hydraulics


Operator friendly safety system compliant with EN13418


Low maintenance


Worldwide support





X6t Turret Slitter Rewinder features:
Compact or separate unwind
Shaftless unwind
Driven or braked unwind
Splice table
Digital web guiding
Shear, razor or crush cut slitting
Speed options – 600 or 700 m/ minute
(2000 or 2300 ft/min)
Automatic knife positioning – shear and razor
610mm rewind diameter
Laser core alignment
Automatic core positioning
Turret shaft support
Unloading roll pusher
Robotic roll handling
Safe operation for manual tape to core
Automatic web cut off
Automatic core taping
Automatic core loading
Automatic roll tape down
Fast turret cycle
X6T Slitter Technical Information
Unwind diameter options
Compact:
Separate:
1100mm
1500mm

44 inches
59 inches
Rewind diameter options:
610mm
800mm
24 inches
31.5 inches
Web width options:
1050mm
1350mm
1650mm
2000mm
2250mm
42 inches
53 inches
65 inches
80 inches
90 inches
Speed options:
600 m/min
1000m/min
2000 ft/min
3300 ft/min