Bryce Corporation continues to grow with the investment in the latest slitting and roll handling technology at their Searcy, AR, USA location. Bryce is a major US supplier of flexible food packaging with the capability to serve both the long run and short run production orders. Bryce's previous slitting operation did not meet the needs of their growing markets. They needed machines with automatic set up to allow job changes in a few minutes together with minimal stop time on completion of a set of finished rolls. Most importantly, the slitting machines had to produce high quality rolls consistently with minimal operator lifting and intervention.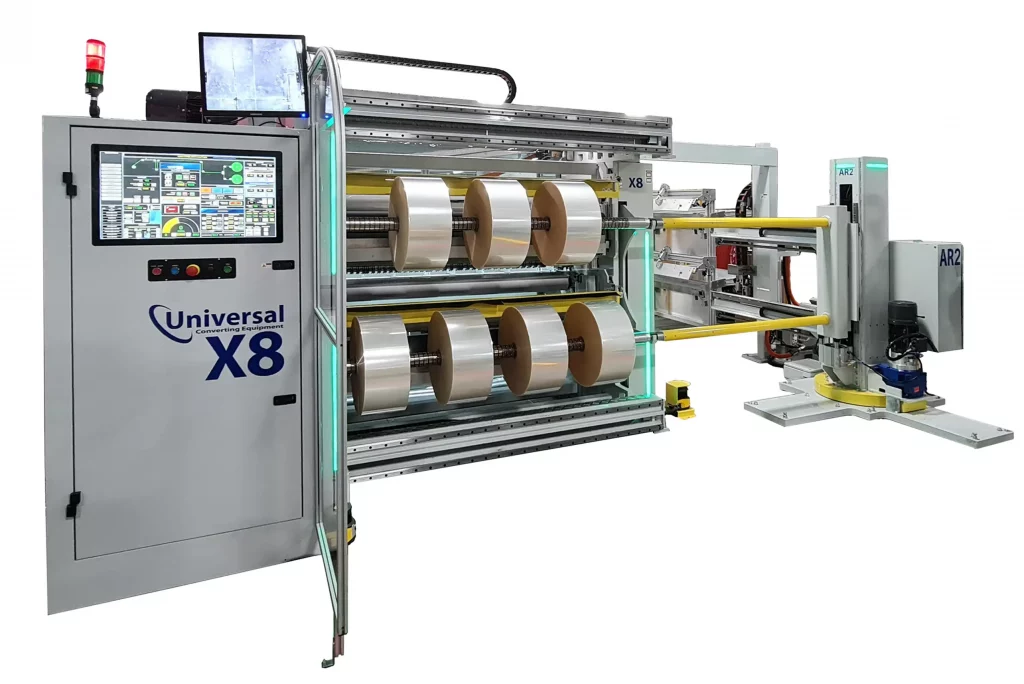 Bryce has recently contracted Universal Converting Equipment to supply multiple automatic Universal X8 slitting machines with automatic unloading, labelling, roll handling, roll bagging through to robotic palletizing. Universal Converting Equipment is responsible for the supply of the equipment and also the control system for the complete system including data transfer to and from the Bryce ERP system.
Universal Converting Equipment is a UK-based manufacturer of slitting and rewinding machines. It was established over 25 years ago and has been developing automation systems for slitting machines from the start. The Universal X8 slitting machine is the culmination of that development. Commenting on the X8 development, Alan Jones, Director said "Efficiency is achieved through attention to detail. We keep looking for processes that can be automated to ensure high quality, consistent operation. For example, all our machines include automatic knife positioning of rotary shear knives and razor blades. We have added automatic control of depth and sideloading of shear knives with micrometer feedback to show the operator the exact position and allow adjustment of both critical parameters whilst the machine is running. Optimum knife setting equals high quality slits and long blade life. All the functions relating to unloading finished rolls and restarting the machines are automated, so the machine runs without an operator at the rewind. The Universal X8 has been a huge development process. Bryce understood the concepts and the thinking behind the systems on the X8 machine and was prepared to invest in machines that did not conform to the old industry standard. They can now see the results."

Sean Bowie, President, Bryce Corporation said "The Bryce Corporation is committed to making long term investment decisions to ensure they have the Best-in-Class processing equipment to cope with the increased demands from our customers. One of the greatest benefits of this system is the reduced amount of manual lifting required by our value stream team members. We have also recently announced the start of building a new factory in Searcy that will employ an additional 142 people. The novel ideas from Universal Converting Equipment fitted with our desire to look for next generation solutions rather than buying the status quo.

The installation and commissioning have been overseen by Andy Pratt, Vice President of Manufacturing at Bryce plus his team of Engineers. Andy Pratt commented, "We had some very challenging requirements for our new slitting facility involving major improvements in safety, efficiency, and quality. Universal listened and proposed a solution which was different to other suppliers. All the processes relating to unloading, labelling, bagging and palletizing the finished rolls, along with reloading and positioning the cores and restarting the machine are completely automated with this system. We are excited by the efficiency figures being achieved. The ongoing support from Universal has been excellent during the commissioning phase and since we have been in operation."
Last Updated on December 27, 2022