FFP Packaging Solutions has won the prestigious 'Investment of the year' award at this years UK Packaging Awards. FFP is a packaging company that focuses on designing and manufacturing sustainable packaging solutions for food, beverage, pharmaceuticals and other industries.
Established over 50 years ago, FFP have grown to become one of the leading flexible packaging suppliers in Europe with many distribution sites across England, Scotland & Wales.
Their products are designed to help businesses grow by increasing efficiencies while reducing costs through innovative design solutions tailored to their customer's needs. FFP have significantly invested in new machinery, including a Universal X6 Slitter, which has led them to winning the 'Investment of the year' award.
An FFP representative explained,
"In October 2020, we commissioned our latest investment, a new laser system which is a collaboration between Coherent and Universal Converting Equipment.
The new machine consists of a high productivity slitter from Universal Converting Equipment combined with a state-of-the-art laser machine from Coherent. This new machine represents an investment of £700,000 for FFP and has significantly enhanced our laser profiling capability and increased capacity.
Not only has the new equipment had a huge impact on the capacity of the factory allowing us to respond to customer and market demand, but it also brings with it enhanced capabilities and efficiencies."
The positive profile of the Universal X6 continues to develop at a pace in the Flexible Packaging industry, due to a reputation for speed, reliability and many eco-aware features. When integrated with laser equipment from Coherent the Universal X6 is able to score, inspect and slit at speeds that leave competitive machines behind.
The UK Packaging Awards judges noted that,
"A great combination of investment in machinery, increasing capacity, and sustainability with the Esterseal development. Marvellous work!"
Everyone at Universal Converting Equipment would like to congratulate FFP Packaging Solutions on winning this important award. If you would like to find out more about how the Universal X6 can increase efficiency and reduce costs please contact us.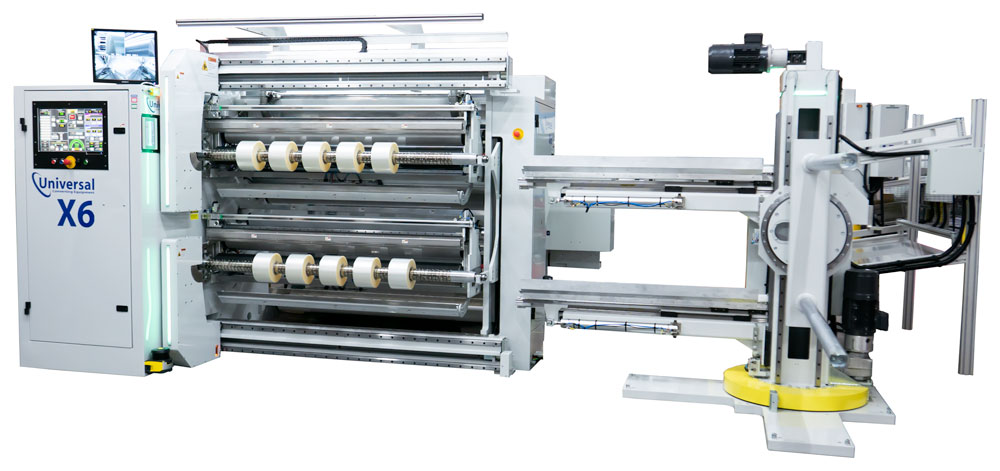 Find out more about FFP Packaging Solutions…
Find out more about the award on the Packaging News website…
Last Updated on December 28, 2022