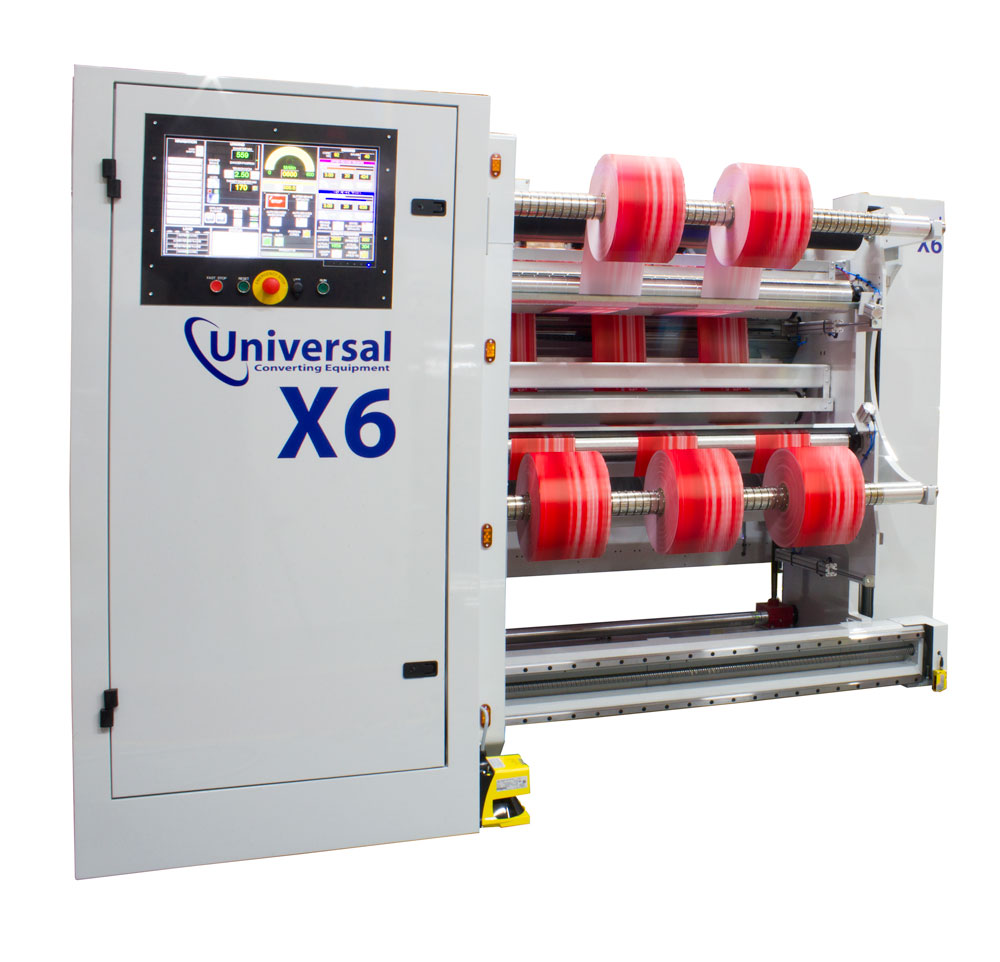 Parkside Flexibles are a leading edge flexographic printer with manufacturing in the UK and Malaysia. As a supplier to global brands, Parkside uses advanced processing systems to create value added packaging. This requires the highest quality slit rolls to send to its customers. In many cases, the complex structures are difficult to process and required a long setup to achieve satisfactory results.
Parkside invested in two Universal X6 slitter rewinders to meet these developing needs. The Universal X6 slitting machine has a range of features to ensure product consistency and minimise changeover times. Some of the Parkside laminates, including aluminium foil based structures, were particularly difficult to achieve satisfactory results. Key to the success of the project were the following machine features:
Tension control – The Universal X6 has closed loop rewind tension control with load cells providing feedback. This ensures that the winding tension is exactly as required, especially through machine acceleration and deceleration. Once the ideal settings for the material were found on the first machine, they were copied to the recipe system of the second machine which then worked immediately.
X-Slit slitting system – This system uses automatic positioning to control the position of knives and anvils to very tight tolerances. It can also automatically position razor blades. A closed loop measuring system is used to set the sideload on the shear knives. A tension zone through the slitting section allows the slitting tension to be optimised. Adjustable height rollers are used to set the amount of wrap around the cutting shaft to suit the material type being processed.
Wrinkle free operation – The Universal X6 slitter rewinder has a "Quad" wrap material drive system to isolate tension between the unwind and rewind. Unlike nip roller and vacuum roller based systems you do not have slippage, scratches, noise, energy wastage or crease formation.
Constant geometry contact rollers – unlike pivoting lay on rollers, the constant geometry contact rollers move horizontally as the rewind roll increases in size. The rollers are built into a rigid structure so they always stay parallel giving the best quality finished rolls.
Print repeat measurement – built into the X6 slitter rewinder is a system to measure the length of each print repeat and then generate a report and graph showing the variability through the roll
Both X6 machines were delivered on time with a Universal engineer commissioning the machines and providing training. Both machines have FREE telephone and internet based support for the life of the machines.
Commenting on the installations, Alan Jones, Managing Director of Universal Converting Equipment said:"Parkside challenged us with some of their requirements. Although the Universal X6 machines supplied to Parkside were our standard model, some of their specifications had tighter tolerances than normal. It was very satisfying when Parkside visited for the machine acceptance trials that the products were all processed without problems. The X-slit slitting system provides a lot of flexibility as well as fast and accurate set up. Rather than dedicating products to machines, Parkside found they could run their range of materials through the X6 without problems. Precise knife setting and closed loop control ensures reproducible results."
Brian Harper, Global Technical Manager, Parkside Flexibles added "At Parkside, we take on technically difficult projects. Universal rose to the challenge and we have been extremely pleased with the results. From day one, the machines have been producing product of a quality we could not achieve consistently on our other slitting machines. Universal have worked with us to optimise the settings and due to the closed loop control systems we can swap recipes between machines and achieve identical results."
Last Updated on December 28, 2022