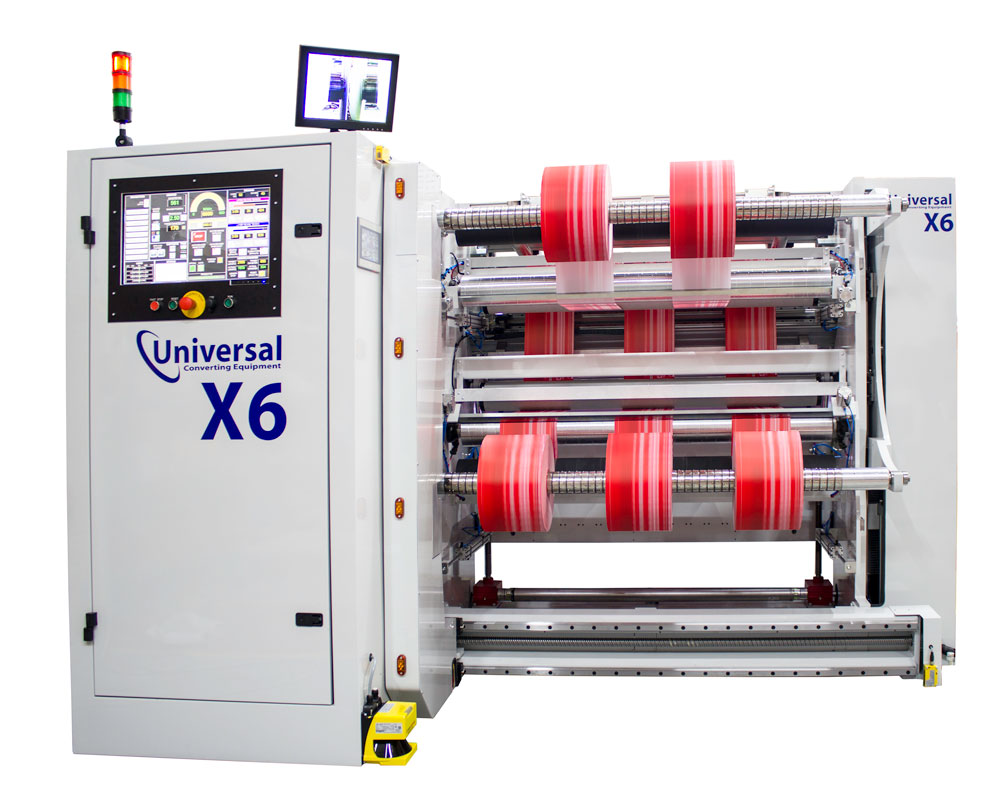 Pulse Flexible Packaging was formed in 2014 following a management buyout of the UK packaging businesses of Printpack. After the buyout, Pulse has invested heavily in new production equipment to update its manufacturing base and expand its capabilities. Pulse already have machines from Universal at both of its factories.
As part of this expansion, Universal Converting Equipment have supplied three Universal X6 slitter rewinders to Pulse. Two were installed at their Bury facility and one at Saffron Walden. All three machines included the following features:
Fast loading unwind, including floor pick-up, with remote control
Constant geometry lay on rollers for precise control with tail clamps
Closed loop rewind tension control ensuring rolls are always wound at the correct tension
Differential friction shafts that do not require lubrication
Easy operation with 22" operator interface and two additional touchscreens for fast operation
Extensive diagnostics
FREE internet and phone based support for the life of the machine
Automatic positioning of shear (knives and anvils) and razor blades
Automatic positioning of rewind cores
Additional slit tension zone
The Universal X6 slitting machine is designed as a fast changeover machine. The mix of work processed through the machines at Pulse requires frequent knife set ups. The X6 has automatic positioning of both shear knives and razors. These are positioned faster than a new roll can be loaded into the machine. At the same time, the cores are automatically positioned on the rewinds. The system has to cope with a wide range of products from narrow bottle labels wound on 152mm cores to cold seal product wound on 76mm cores.
Commenting on the installation, Alan Jones, Managing Director of Universal Converting Equipment said,
"We had several discussions with Pulse before the project proceeded. They had undertaken extensive analysis of their existing slitting operation and realised that the running time of their slitters was low due to the downtime when changing from one order to the next. We proposed the Universal X6 slitter rewinder due to its range of features that drastically reduced the time the machine is stopped between jobs. The automation systems also ensure that the required setup is achieved from the first set of rolls as you know the tensions, slit positions and core positions are all correct. Since installation, we have also worked with Pulse to further maximise output from the machines. All three X6 slitting machines have extensive diagnostics and are supplied with our guaranteed FREE lifetime telephone and internet based support."
Adrian Rowbotham, Engineering Manager at Pulse adds,
"The installation of the Universal X6 slitter rewinders took place at a time of great change in our business. The Universal X6 machines have both expanded our slitting capacity and greatly improved our efficiency with three X6 machine producing the same as seven of our existing machines. We bought our first Universal slitting machine ten years ago and have purchased other machines and systems from them since. We know how well Universal support their installations which made this decision an easy one."
Find out more about the Universal X6…
Last Updated on December 28, 2022