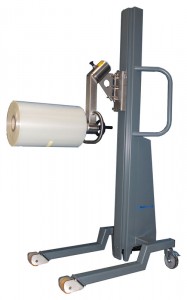 Universal Converting Equipment has extended the range of attachments available for their popular roll-handling trolley
Safe roll handling is essential not only for the health and well-being of machine operators, but also for efficient job setup and turnaround, but not all rolls need handling in the same way. To ensure that customers have the right tools for the right rolls Universal Converting Equipment now offer a wide variety of attachments for their electric raise/ lower roll handling trolley.
The most popular roll handling attachment picks up a roll that is standing on end and (after lifting the roll) the operator can rotate the roll to a horizontal position ready for loading onto slitter shafts, or vice-versa for unloading finished rolls from a slitter unwind shaft. This type of roll-handling attachment grips rolls of material by their cores, the additionally available attachments hold and lift rolls via a range of different means, including cradles, v-beds (trays) and twin-arm systems.
Universal now offer a range of handling attachments for their roll-handling trolleys, including lifting platforms, crate forks and pallet forks.
With the Universal Converting Equipment roll handling trolley and the correct attachment, material handling is not only very safe but also a lot more efficient.
More about our roll handling trolley…
Last Updated on December 28, 2022