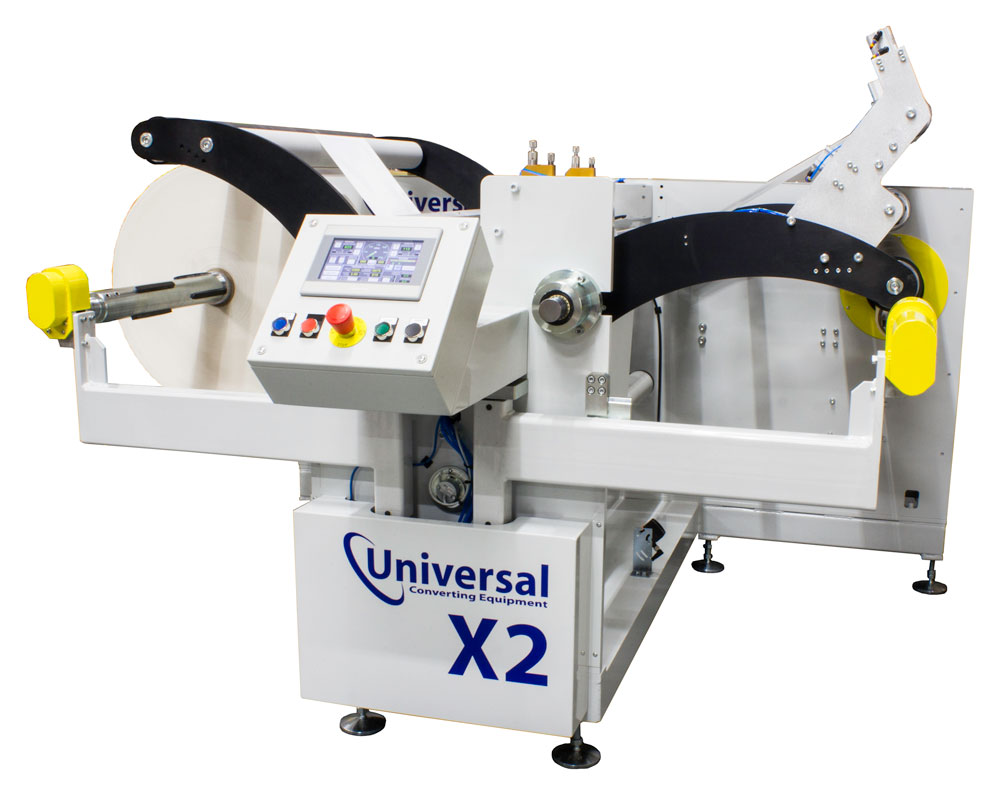 Salvage Winder, Web Inspector and Simplex Slitter
The Universal X2 roll doctor machine sets the standard for machines of this size. It incorporates the latest Total Tension Control System with closed loop tension feedback to ensure it produces finished reels of the highest quality. The machine has been specifically designed to process tension sensitive substrates. The cantilevered design allows easy loading and unloading of reels. The machine is reversible to allow print direction to be corrected without the need to unload and re-load the roll.
Typical uses:
Inspection
Defect Removal
Roll profile correction
Spooling
Trimming
Slitting
The Converter Guide 4 Digital web guiding system is simple to set up, and utilises AC Servo technology, with encoder feedback to give the ultimate web guiding performance. With a rewinding machine the finish roll edge profile is sometimes controlled by the guider (rather than a slit knife) therefore this is a key area of the machine. The guider corrects at speeds up to 50mm per second. The controls for the guider are fully integrated with the machine controls.

Productivity
High quality
Dependable



High speed - 600 m/min


Simple to set up and operate


Short web path


Digital web guiding


Lay-on rollers to ensure air-free winding


Comprehensive on screen diagnostics


Reversible operation - X2 will slow down and stop at end of reel and will rewind automatically


Ability to rewind and stop when defect detected


Optioning trim slitting








Closed loop tension control


Recipe system to ensure repeatability.


Short distance between rollers


Ethernet based OPC server allowing access to machine parameters by SCADA or other management systems





Robust design with heavy duty frames


Only high quality components from global suppliers


Touch screen control interface


Internet based real-time remote diagnostics


No Hydraulics


Operator friendly safety system compliant with EN13418


Low maintenance


Worldwide support





X2 Salvage Rewinder Features
Auto-reverses to detected defects
Shaftless or shafted winding
Driven or braked unwind
Optional splice table
Digital web guiding
Optional shear, razor or crush cut trim slitting
Optional spreader roller
Customised centre-module for customers' processes
Roll diameter options:
300mm
600mm
800mm
1000mm
1500mm
12 inches
24 inches
32 inches
40 inches
60 inches
Web width options:
300mm
600mm
800mm
1000mm
12 inches
24 inches
32 inches
40 inches
60 inches
Speed options:
300 m / minute
450 m / minute
600 m / minute
1000 ft / minute
1500 ft / minute
2000 ft / minute