Since forming in 1987 Skymark Packaging Ltd have strived to put themselves at the forefront of innovation. In the competitive world of flexible packaging Skymark are one of a select group of companies who are prepared to prove their commitment to constant innovation. One of the most tangible ways that Skymark has made their position clear is by publicly announcing details of investment programs. The company recently announced that they have invested in a Universal X6 Laser perforation Slitter Rewinder.
The Universal X6 Laser perforation Slitter Rewinder gives Skymark the capacity to process a wide range of flexible packaging films. During the slitting process films can be either perforated to modify the atmosphere within the package or scored to make packing easier to open for the consumer.
The laser scoring technology on the universal X6 enables packaging films to be perforated to a high level of accuracy at speeds of 350m/min. This gives Skymark the ability to selectively score one or more layers of laminated film. This enables the production of 'easy peel' packaging that won't compromise the barrier properties of the complete packaging. Commenting on the investment, Skymark Director, Paul Neath said, "The investment in laser perforation and scoring capacity is part of a larger expansion programme. We chose Universal as they are able to offer local support for both the slitting machine and the Rofin laser system. Universal also have over 20 years experience with similar laser systems"
In addition to laser perforation and scoring technology, the universal X6 is fitted with the same hyper-productivity technologies as the popular X6 Slitter Rewinder. Including automatic knife and core positioning. Other common features, including on-screen diagnostics and remote support ensure that the X6 is consistently productive. As with all Universal Slitters the new Universal X6 at Skymark comes with free lifetime support.
2017 has been a year of great progress for Skymark Packaging Ltd. News of the purchase of an X6 closely followed news of an important award for sustainability. The new machinery will be installed at the Skymark facility at Scunthorpe in the UK. Alan Jones, Managing Director of Universal Converting Equipment commented "The growth of Skymark is mirrored by the growth of Universal. Having acquired additional buildings, Universal is set to double its output of X6 slitter rewinders in 2018. Although most of the machines are exported it is always good to supply companies that are closer to home."
Find out more about the Universal X6lp…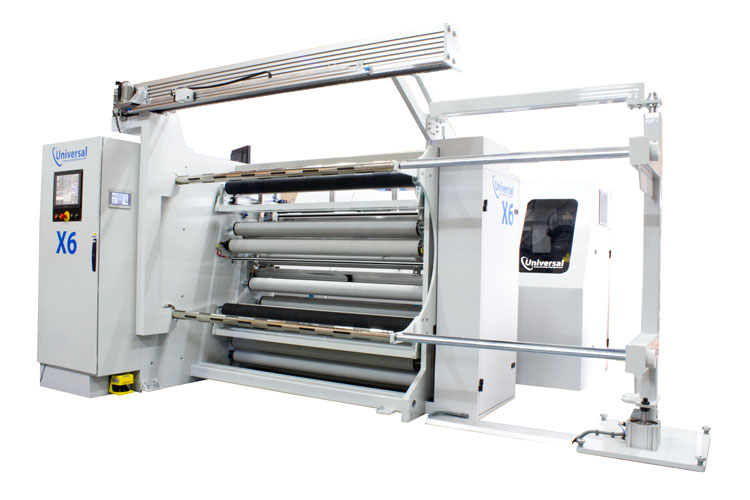 Last Updated on December 28, 2022