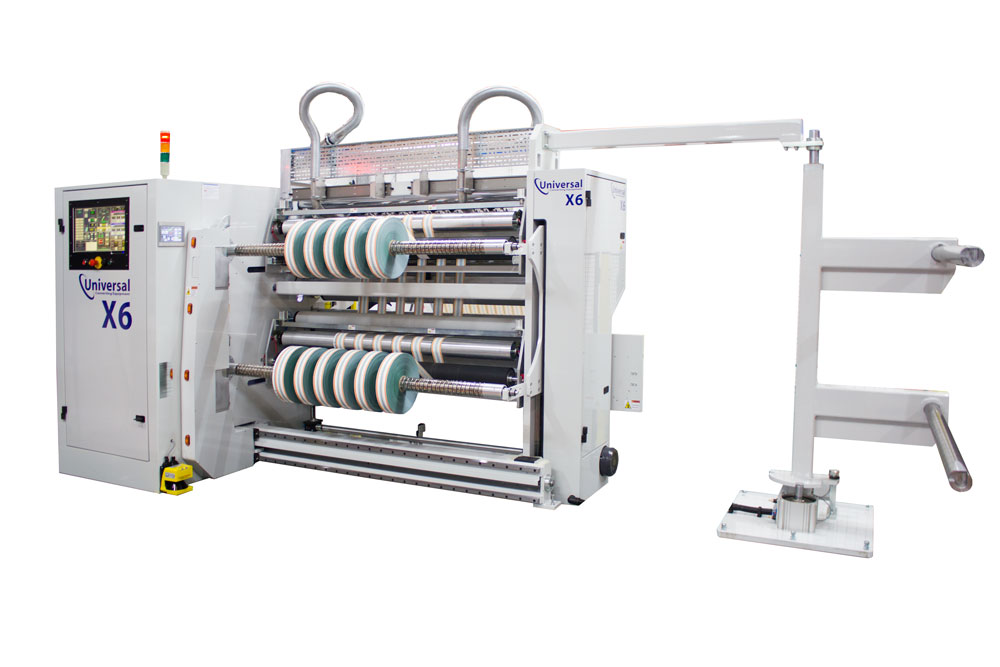 High productivity slitter with simple, safe operation
The X6 Duplex Slitter Rewinder is suitable for film producers and flexible material converters. The X6 is capable of processing a wide range of films, foils, papers and laminates.
The Universal X6 slitting machine has been designed to produce perfect slit rolls time and time again. This versatile machine incorporates Universal's closed loop Total Tension Control System, ensuring consistent and repeatable roll tension profiles. Using digital AC vector drives and integrated control system, the machine offers unprecedented control whilst being simple and friendly to operate. Technology is used to save time and improve accuracy  resulting in higher productivity and improved quality. Standard features now available are:
Fast loading system for parent roll
Print repeat length measurement and impression counter
Automatic guider eye positioning
Automatic shear and razor knife positioning with individual knife holders
Tension zone through slitting
Closed loop rewind tension control
Constant geometry contact rollers
Automatic core positioning
Automatic roll unloading
Dynamic diagnostic systems for in plant and remote access
Print repeat length measurement and impression counter
Integrated technology allows remote diagnostics anywhere in the world simplifying ongoing support. We provide FREE telephone and internet based support for the life of the machine. The Universal X6 slitter is designed to be reliable but when you need help, we will give it without charging.
The use of high quality components and extensive on machine diagnostics reduces ongoing maintenance requirements. Most of the mechanical parts for the Universal X6 slitter are manufactured in our own machine shop using the latest CNC equipment. We hold extensive stocks to back up our service commitment.
The Universal X6 slitter is designed for quality and productivity. It is built to last and is supplied with our commitment to provide excellent support.

Productivity
High quality
Dependable



High speed - 300-1000 m/min


Simple to set up and operate


Short web path


Fast changeover maximising machine uptime


Typically less than two minutes to position knives, align cores, set tension and load parent roll


Automatic knife set up - up to 20 knives set in less than 2 minutes (set while new parent roll is being loaded)


Automatic core-positioning


Digital web guiding


Comprehensive on screen diagnostics








Closed loop, load cell control of rewind tension


Recipe system to ensure repeatability.


Constant geometry, linear motion, contact roller system with automatic pressure control


Large diameter path rollers with specialised finish to suit application


Short distance from knives to rewinds


Short distance between rollers


Ethernet based OPC server allowing access to machine parameters by SCADA or other management systems





Robust design with heavy duty frames


Only high quality components from global suppliers


Unique dynamic circuit diagrams with auto fault-find system


Large 22 inch touch screen control interface


Internet based real-time remote diagnostics


No Hydraulics


Operator friendly safety system compliant with EN13418


Low maintenance


Worldwide support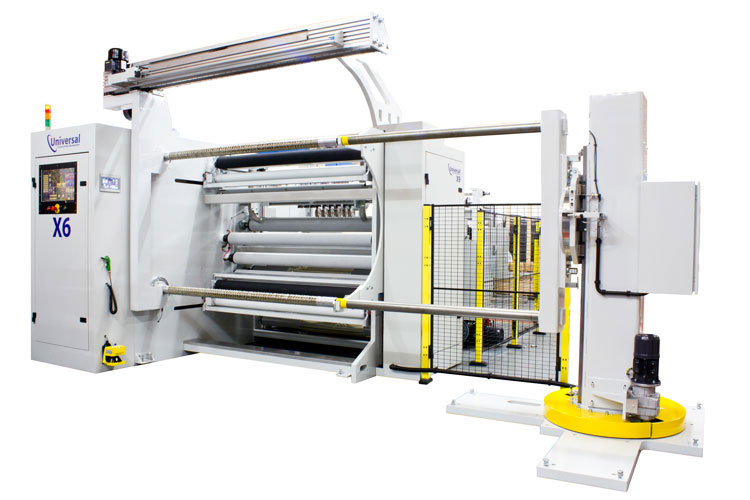 X6 Slitter features:
Automatic knife positioning
Automatic core positioning
Automatic core loading
Automatic roll tape down
Compact or separate unwind
Shaftless or shafted unwind
Splice table
Digital web guiding
Shear, razor or crush cut slitting
Speed options – 300 to 1000 m/ minute (1000 -3300 ft/min)
450 to 1000mm rewind diameter
Unloading roll pusher
Robotic roll handling
Gap winding
X6 Slitter Technical Information
Unwind diameter options
Compact:
Separate:

1000mm
1300mm

40 inches
51 inches
Rewind diameter options:
450mm
650mm
800mm
1000mm
18 inches
26 inches
31.5 inches
40 inches
Web width options:
1050mm
1350mm
1650mm
2000mm
2250mm
42 inches
53 inches
65 inches
80 inches
90 inches
Speed options:
300 m/min
600 m/min
700m/min
1000 ft/min
2000 ft/min
2300 ft/min