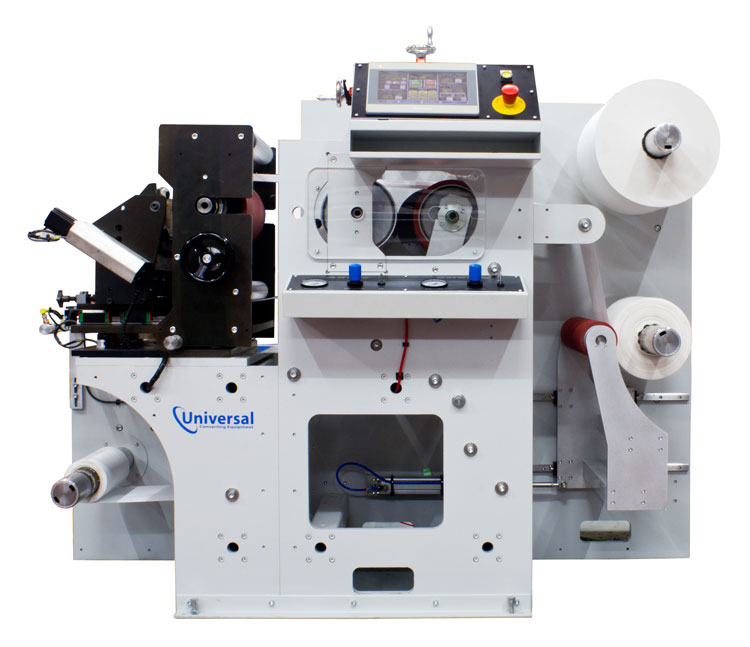 Universal Converting Equipment have supplied a new CL350 hot melt adhesive coater / laminator to sister company, Universal Adhesive Systems. This investment in the latest technology strengthens the position of the two companies as leaders in both converting machinery and adhesive application technologies.
The new CL350 coater is available for customer trials at Universal Adhesive Systems, Daventry facility. The machine has been built with a focus on flexibility. Despite the small footprint of the Universal CL350 is capable of multiple coating types, including slot die proximity coating, CrossCoat curtain coating, high speed intermittent coating, spiral coating, spray coating and Dynafiber coating.
In addition to the different coating types customers can trial on the CL350, the machine has been developed to handle a wide range of substrates including films, paper and non-wovens. The CL350 can operate at production speeds, so by running coating trials at the test facility in Daventry customers can prove hot melt applications will work in live production environment. The CL350 has proved popular with companies who wish to streamline and improve their current hot melt adhesive applications.
The automatic coating station on the CL350 was designed and built in Ipswich by Universal Converting Equipment. Drawing on their expertise in control systems the CL350 is simple to use and incredibly accurate. Adjustments on the coating station are made via a touchscreen and actioned by precision motors. The constant gap winding system ensures the best quality finished rolls are produced.
Commenting on the investment, Alan Jones, Managing Director, Universal Converting Equipment said "Universal Converting Equipment has grown rapidly in the last three years mainly driven by the introduction of our high productivity Universal X6 slitter rewinder. However, hot melt coating and laminating is an important and growing sector for us with machines being supplied on a worldwide basis. We are able to combine the high speed web handling and tension control systems developed for our slitters with the coating expertise of our sister company, Universal Adhesive Systems, to provide a complete package for our customers. The test facility at Daventry gives customers who may have little or no experience of this technology, the chance to test different materials, adhesive and coating techniques, so they can prove their product prior to investing in a machine. The close relationship with ITW Dynatec ensures we have the best hot melt feed systems and worldwide support. With both our slitting machines and our coating machines, we believe that being able to provide ongoing support for our customers is vital to ensure they are satisfied and come back to us with more orders in the future. The use of Internet based remote diagnostic systems, high quality components and our dedicated support team to ensure this support is available. "
The Universal CL350 is part of a wide range of coating, converting and slitting machines designed and built by Universal Converting Equipment. As with all machines produced by Universal, the emphasis is on productivity, reliability and ease of use. All Universal coating machines have a touch screen operator interface and a drive and control system that can be connected to a secure internet connection for diagnostics. The hot melt coating systems are tailored to the specific requirements of the customer.
Universal Adhesive Systems are the exclusive UK distributor ITW Dynatec. A leading global supplier of technical adhesive supply and coating equipment for the converting and non-woven industries. Universal Adhesive Systems has its own team of engineers and coating experts to provide systems and support for coating, laminating, print finishing, packaging and other applications.
More about the Universal CL350…
More about Universal Adhesive Systems Ltd…
Last Updated on December 28, 2022