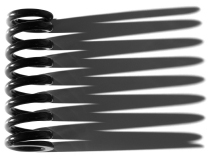 Precise tension control is vital to ensure the quality of wound rolls of material. Slitting, winding, coating, laminating and embossing all require accurate tension control systems. Universal Converting Equipment developed closed loop tension control systems to incorporate into their machines. These systems are now available to upgrade other machine types.
All our systems rely on closed loop tension control with load cells or a dancer system providing a measurement of actual tension which is then compared to the required tension and the control signal changed accordingly.
Our standard system has a touch screen operator interface which allows the required start tension and taper tension to be entered. Theses settings can be saved as part of a recipe to be recalled at a later date when required. Set tension and actual tensions are shown on the tension control unit display. These can be trended on a graph.
All the data can be saved to PC so that a historical log can be stored as part of a quality assurance programme. This will then provide the evidence of the tension profile of all roll that were unwound or rewound.
Please contact us and explain the problem you have. We will have a tension control package to meet your requirements.