Overwhelming interest in the X6 Slitter at ICE Europe 2015
This year's International Converting Exhibition (ICE) in Munich appeared to be the best-attended ICE exhibition to date, both in terms of delegates and exhibitors. Here at Universal Converting Equipment, we decided to book a larger stand, and to take more machinery than in previous years. This was a decision that paid off. The two main machines on the stand were both sold with other orders placed at the exhibition.
We were overwhelmed by the level of interest in our Universal X6 Slitter. The machine we took was configured to showcase the most popular options, as chosen by our customers. The X6 was loaded with a BOPP jumbo roll and features like automatic knife setting proved popular with the large crowds who gathered to watch the regular demonstrations. Despite having eight salespeople on the stand, there were times when everyone was busy and we could not speak to all the people coming onto the stand.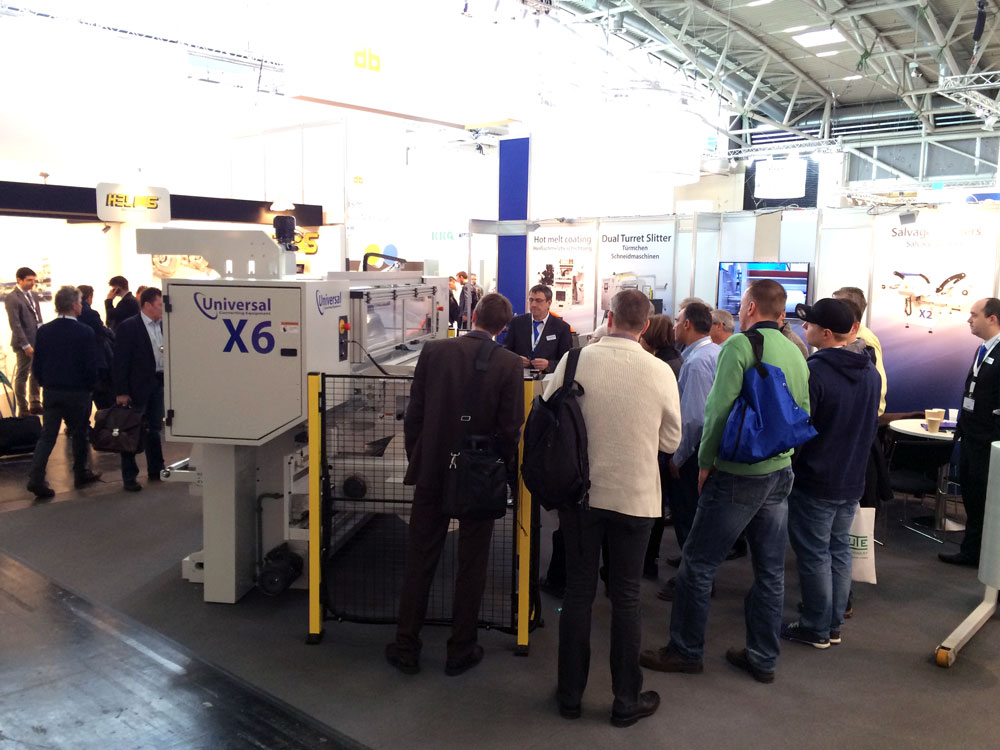 In addition to the slitter rewinder we also exhibited a hot melt adhesive coating station. There were a number of other hot melt system suppliers at ICE, but several delegates mentioned to us that we appeared to the be the only exhibitor who could provide the coating equipment (heads, hoses and tanks) in addition to designing and building the control systems and complete machines.
The Universal CCA Automatic Core Cutter on our stand generated a lot of enquiries, as did the RT2 roll handling trolley. One customer was so impressed with the Automatic Core Cutter that he bought one on the spot, just a short while after signing on the dotted line for the Universal X6 slitter also on the stand.
ICE Europe is well-established as a great opportunity to network with industry colleagues, and this proved to us yet again how substantially important the Universal X6 is for converters of flexible packaging, as well as for companies slitting papers, label stock and hot stamping foils.
Last Updated on December 28, 2022