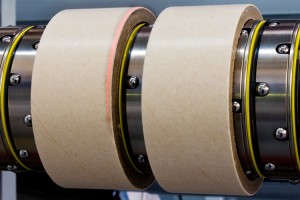 There has recently been a surge of interest in our laser core alignment system, so we have written this post to explain how the system is installed and how it works.
Core positioning.
We fit our ComputaCore Laser Core Alignment System to many of the slitters we manufacture, and we also offer our laser core alignment system as a kit for installation on slitters made by other manufacturers. A measurement is taken from a fixed point (a 'datum') to ensure that the position of the cores is correct in relation to the slitter knives. We have a great deal of experience in upgrading third party machinery and if you feel you would benefit from a more integrated approach to controlling your slitter rewinder we can replace the control system.

Installation.
The ComputaCore Laser Core Alignment System has been designed to be very easy to install on almost any slitter and while the majority of our customers use their own engineers to install the system one of our engineers can install the system for you if required.
The laser core alignment kit consists of four main components:
Laser pointer
A linear actuator rail (manufactured to the correct width for your slitter)
A control box with touchscreen
Instruction manual
We do not provide the support arms that hold the laser core alignment system above the slitter rewind shafts, but can fabricate these for you for a small additional cost.
Core sizes.
We are often asked which cores sizes the laser core alignment system is compatible with, and the short answer is 'all of them' – because the laser pointer beams a line of light across the rewind shafts it does not matter what diameter your cores are, the line of light will still be in the correct place for your operator to correctly align them.
Conclusion.
Installing a Universal ComputaCore Laser Core Alignment System is simple and will greatly reduce job set up time while increasingly accuracy.
Last Updated on December 28, 2022