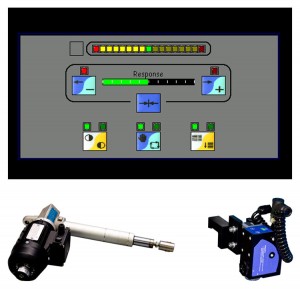 Universal's popular retro-fit edge, line and broken line guider the 'Converter Guide 4' (which has strengthened the company's reputation for increasing machine efficiency through reducing waste and simplifying setup) is now fitted with a touch screen human interface as standard.
"When we spoke to customers about web guiding systems in general they told us that needlessly complex and overly comprehensive user interfaces (from some third-party suppliers) often led to stoppages and excess waste. In response to this feedback we developed a touch screen system that prioritises the important functions, without hiding more infrequently used controls behind complex menu systems. Customers have responded extremely well to this development." says Managing Director Alan Jones.
"In addition to having a very simple two-step setup process, the 'Converter Guide 4' has been designed to be simple enough for any customer with an in-house engineer to install themselves. This machine can make huge improvements to any machine anywhere'. says Technical Director Dave Ward.
Last Updated on December 28, 2022