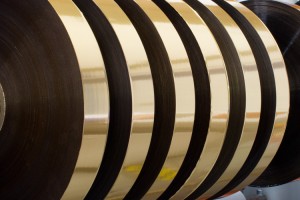 Hot stamping foil is extremely tension sensitive when being slit, an issue we answer with the use of load cells and a 'closed loop tension control' on our Universal X8 Hot Stamping foil slitter.  Precise and repeatable tension during the cutting process is further facilitated by additional tension zone in the cutting section.
Hot (and cold) stamping foil can create a lot of dust if slit incorrectly, our cutting machines minimise the amount of dust generated, creating cleanly slit finished rolls.
Our foil slitting machines can be fitted oscillating trim winders for removal of excess material, thereby reducing the amount of time the operator spends dealing with waste.  Use of accumulating trash / trim winders also helps ensure that tension in the cutting zone remains correct.
Rollers in our hot stamping foil slitters are balanced and specially coated to ensure there is no wrinkling regardless of machine speed.